Primary tabs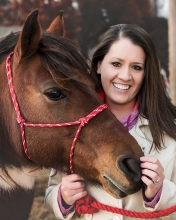 Chelsea
Metoyer
Chelsea grew up in south central Nebraska on her family's cattle ranch and from day one, horses played a huge role in her life. Some of her fondest childhood memories include a horse in some way - whether it be rounding up and checking cattle, competing at local shows and rodeos or riding down the road to play with the neighbor kids. Wherever Chelsea was, her horse wasn't too far off.

Chelsea is a graphic designer and professional photographer. She created FizzyPop Design & Photography as a way to combine and grow her passions. She wants to live in a world filled with creative business concepts, beautiful photographs, a green pasture full of horses and an endless flow of coffee.

A designer with more than 13 years of experience, she started her career with Lollia, a lifestyles company based out of Denver, CO. The products she designed have been featured in magazines like Elle, O magazine, Harper's Bazaar, Glamour and featured on Oprah's 'favorite things' show. She was also a graphic designer and project manager for CTA Design in Billings, Montana, where her focus was on building client relationships and finding creative ways to expand the company. Following her husband south, she landed in Wichita, Kansas, and joined a nonprofit organization that worked with other nonprofits, which is where she was first introduced to Rainbow Meadows.

When she's not exceeding her client's needs and creative expectations, you can find her riding horseback with a lariat in one hand and a camera in the other or answering the question "why" for the 8,453rd time.