Primary tabs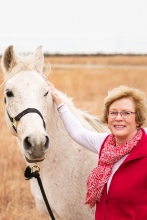 Nancy
Kutter
Nancy grew up on the family farm originally founded by her grandfather and grandmother near a small Kansas community.  Her first experience with a horse was at her cousin's nearby farm on the most wonderful, gentle horse named Smokey. Vicki, Smokey's owner and Nancy's cousin, was a true horsewoman and cowgirl!  Although Nancy didn't have horses at her family's farm, a love and respect of all animals developed over the years.
Nancy ended up in Wichita Kansas in 1980 where she met Rainbow Meadows Executive Director and co-founder Karen Everhart.  As time would have it, a great friendship developed. As the two kept in touch, Nancy visited Rainbow Meadows and brought others to see the "splendor of the horses" in Sedan.   She also volunteered at several special events. 
Nancy recently retired from a medical office  administrator position that she held for 30 years. She shares her time now with her two rescue dogs, going to the farm to check on her 94 year old mother, and driving up to KC to see her two grandsons.