Our Mission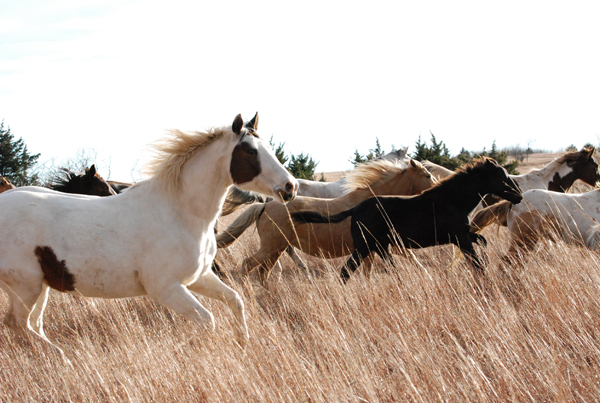 The Rainbow Meadows Mission: To serve the equine companions who have so loyally served us by offering a safe and peaceful refuge for abused, neglected, abandoned and slaughter-bound horses, which it actively rehabilitates and adopts out to caring homes.
Located on Rainbow Meadows Ranch near Junction City, Kansas, Rainbow Meadows Equine Rescue and Retirement, Inc. is dedicated to providing a safe haven for abused, neglected, abandoned and slaughter-bound horses. It was established in 2005, and since its inception, it has been an active player in the rescue of hundreds of horses.
Rainbow Meadows represents the lifelong dream of Karen and David Everhart. Karen was a horse lover from birth and she and David had been looking for the opportunity to give back to the creatures that had brought them so much joy for so many years. That opportunity finally arose with the establishment of Rainbow Meadows Ranch. The rescue is housed on the 160-acre ranch and supports numerous rescued and retired horses.
When a horse arrives at Rainbow Meadows, it is rehabilitated as necessary and then adopted out to a forever home where it is assured the care and love it deserves for the remainder of its days. Rainbow Meadows also offers a retirement program for individuals wishing to retire their horses in the beautiful Flint Hills where they can rest and relax until the end of their days. In addition to the rescue and rehabilitation of horses that have already fallen through the cracks, Rainbow Meadows has also become increasingly focused on educating horse owners in the areas of responsible ownership and proper horse care as well as the detrimental effect overbreeding has on the overall welfare of the horse population.
Rainbow Meadows has many beloved volunteers and donors. However, it continues to be in need of contributions and helping hands to assure its future success. All services provided by the rescue are funded entirely by gifts and donations. It is an IRS-designated 501(c)(3) public charity, and all contributions are tax deductible. Click here to learn how you can help. Any donation, no matter how much, is greatly appreciated. The horses thank you.