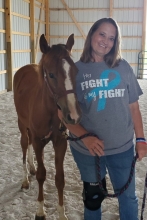 Kaylynn
Johnson
Board Member - Vice President
Kaylynn Johnson is a 1979 graduate from Chapman High School. She is an army wife/mom and has been a NICU RN for 27 years. 
Her love of horses is a Life Time Addiction, she belonged to the Blueline 4~H club, and EKHA Eastern Kansas Horsemans Assn while growing up. 
While on her army family travels she was the Facilities Manager at the FRRC Ft.Riley Riding Club 2001~2004. While stationed at Ft Knox KY she was able to complete the T.L.A.E.R Technical Large Animal Emergency Rescue Certification at the Kentucky Horse Park.  She also audited many of her sons Natural Hoofcare Clinics, because he started trimming horses before he was old enough to drive.
She jumped at the chance to volunteer for R.M.E.R. when she learned they were moving closer to her old stomping grounds.  She currently lives in north eastern Leavenworth county with 5 horses 2 dogs her cat and is a current riding member of the FLH Ft. Leavenworth Fox Hunt Club.