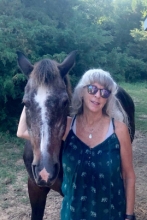 Denise
Nelson
Denise has been involved with Rainbow Meadows since the beginning!  First as a friend of the Co-Founders, then as a volunteer, and now as a returning Board Member.
Denise resides in Goddard KS.  She owns Sundance, a 24 year old Peruvian Paso, and she also fosters Olivia, a 23 year old Quarter Horse from Rainbow Meadows.
Denise and her sister owned Truffles Catering for over 22 years and catered most of the Rainbow Meadows events since she first got involved with the organization.  She still caters part-time and hopes to continue helping with Rainbow Meadows events.
Along with her volunteerism with Rainbow Meadows, she also volunteers with some of the non-profit organizations in Wichita.
Her hobbies include daily walks, any vacation that includes hiking, and reading.  Denise is married to Dr. Robert Nelson, an Optometrist in Wichita.