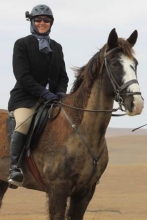 Tammy
Hane
Board Member - Vice President
The summer before Tammy's 2nd grade year, she moved with her family to Chapman, Kansas, right next door to the grade school.  On the first day of school, she met her new life-long friend, Lona, found out she had horses, and rode home on the school bus with her.  When she called home hours later to ask to stay the night at her new friend's house, the only excuse she gave to her worried mother was, "but Mom, she has horses."  Not only was she allowed to stay over with her new friend, but her older sister, Kay, came along too.  Horse fever ran in the family.
No long after that the girls had a horse of their own, and soon her parents decided to build another home out in the country on acreage so that the family could have horses.  Tammy rode and showed in 4-H and the EKHA Eastern Kansas Horseman's Assn and was known by her family as the one who would ride any horse, even if no one else would.
In early adulthood, Tammy lost her horse to an injury, later married, moved, and began working and going to school.  Her 20's and early 30's were filled with full-time work, going to college for her BS in Business and later her MSA in HR, and focusing on her career, but she never lost her love for horses. 
Tammy and her husband settled in the Kansas City area giving her an opportunity to reconnect with her childhood friend, Lona, who also was looking for an opportunity to get back into horses.  And, her Sister, Kay, had purchased a horse while living in up-state New York, where there was another horse, Star, at the stables that no one would ride, until Tammy came to visit.  Within a few years, Tammy and her husband were able to buy land and a home in Leavenworth County and bring Star home to live with her.  That was the start of a new part-time business as a natural farrier, a herd of now 7 horses, and a new passion for the sport of Foxhunting, an activity that she was introduced to by, you guessed it, Lona.