Primary tabs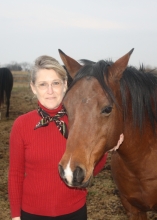 Tami
Courtney
Tami discovered horses at the age of 3.  For her, it was love at first realization of the beauty and magnificence of any horse.  Reading almost every horse book written, her favorite, then and now, continues to be Misty of Chincoteague.  She even had the opportunity to visit Chincoteague and witness the famous pony swim and auction that funds the local fire department.
Tami has owned horses since the age of 16.  Although life took her down a different path for about 30 years, she came back to that love and has owned, trained, ridden, and on occasion, rescued a few over the past twenty-five  years.
She has written for local and national publications on horse health, being a responsible owner, human interest, and the ups, downs, challenges and successes of raising, training and caring for a horse.  She has also written about the adventures, care, and training of the horses' owners and riders.
About fifteen years ago, Tami met Karen at a competitive trail ride and heard about her passion for helping horses.  She watched as Rainbow Meadows grew from Karen's  vision and inspiration of a few horses retiring on the ranch, to the operation it has become.  She kept an eye on Rainbow Meadows' activities, events and growth through our newsletters and website. After the first Chicks, Chaps and Chocolate ride in 2017, she felt called to become more involved, and she was invited to join the Board of Directors.
Living in Central Missouri, about an hour from Kansas City, she is about four hours from Rainbow Meadows and does not get to participate in as many activities as she would like.  Tami is a distributor of Thrive horse feed which donates a portion of each sale back to Rainbow Meadows to help maintain the health and welfare of the horses.